Burglary at Wilmington, DE Assisted Living Facility Could Lead to Theft Charges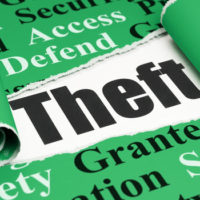 Delaware State Police continue their investigation into allegations regarding a man who robbed several residents of an assisted living facility in Wilmington, DE on the afternoon of July 1, 2017. According to online news source Delaware Online, the man entered the center behind a woman who was legally accessing the building with her key; he even held the door as he slipped inside after her. Once inside, officials allege he stolen items from multiple unlocked rooms. Some areas were unoccupied, but the man identified himself as an employee or delivery person if people were present. Keepsakes, jewelry, and other valuables are among the stolen items. In addition, the accused took credit cards and used them at nearby businesses. If apprehended by police, the man faces various theft and robbery charges under Delaware law.
Overview of Theft Crimes in Delaware 
Theft is a term generally applied to crimes involving two primary elements:
The taking of property belonging to another person; and,
The intent to permanently deprive that person of the use and enjoyment of the property.

There are additional elements that apply for more specific offenses that fall under theft. For instance:
Robbery is theft involving the use of force or threats to take someone else's property.
Shoplifting is the taking of merchandise from a store or retailer, but it also applies to the concealment of merchandise while still on the premises. The presumption is that you were going to steal the item had you not been caught concealing it.
Burglary is the unlawful entry into a home, business, public place, and other structures for purposes of committing a crime. It's often tied to theft because the offender is entering to take someone else's property.
Specific Types of Theft 
In Delaware, theft is a different degree of crime depending on the value of the property taken.
It's a Class A Misdemeanor where the property taken is valued at $1500 or less;
Class G Felony charges apply when the property is $1500 or more.
The crime is a Class F Felony if the value is $1500 or greater and the victim is 62 or older or has a disability – as in the case of the offender at the assisted living center.
Higher felony classifications apply as the value of the property increases, up to a Class B Felony which carries a potential 25 year jail sentence.
Discuss Theft and Robbery Charges with a Delaware Criminal Defense Attorney
Delaware takes theft and robbery crimes very seriously, so you could be looking at jail time, probation, fines, and other criminal penalties if you're convicted. The best way to defend your interests is to hire an experienced criminal defense lawyer as soon as possible. A knowledgeable attorney can develop a defense strategy to protect your rights and find weaknesses in the prosecution's case against you. If you have questions about theft or robbery charges, please contact the offices of Michael W. Modica in Wilmington, DE. We can tell you more about your options or schedule a free, no-obligations consultation to discuss your case.
Resource:
delawareonline.com/story/news/crime/2017/07/20/burglar-stole-residents-wilmington-assisted-living-home/495797001/