Defenses To Weapons Charges In Delaware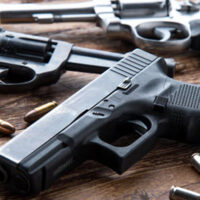 Violations of Delaware weapons laws may not constitute a large percentage of the arrests police make every year, but the statistics show that law enforcement is diligent about apprehending suspects. According to a report on Crime in Delaware, officers charge around 2,100 people with weapons law violations. The counts range from possession by prohibited individuals and illegal firearms to violations of concealed carry laws. Many offenses listed in the statute are charged as a Class E Felony, so you could face up to 5 years in prison if there are no aggravating circumstances present. Other gun crimes are Class D Felonies that carry a maximum of 8 years' incarceration. Plus, certain crimes are elevated one grade higher, such as possession of a weapon in a school zone.
However, statistics on arrests are very different from data on convictions. With a solid defense strategy, the charges could be dismissed, you could be acquitted, or you might gain another favorable outcome. A Wilmington weapons charges defense attorney can explain possible options, which may include:
Possession of the Proper License 
One defense option that is quite basic is showing that you have a Concealed Deadly Weapon License (CDWL) that allows you to carry a firearm, as long as you comply with the applicable laws and regulations. It is not uncommon for someone to not have the CDWL on their person when detained, but you could raise the defense afterwards.
 Unlawful Search 
The Fourth Amendment prohibits police from conducting a search or seizing items without a warrant supported by probable cause. If officers violated your civil rights during the encounter, all evidence uncovered through their misconduct is not admissible in court. If the prosecutor cannot present this evidence, the charges may be dismissed.
However, note that officers can also search someone without a warrant under certain circumstances – and they often do just that in weapons charges cases. If police believe that getting a warrant would lead to destruction of evidence, harm to public safety, or exigent circumstances, they can search you.
 Lack of Possession 
The legal concept of possession can serve as a defense, because the definition encompasses two basic principles:
Actual possession, in which you have a deadly weapon on your person; or,
Constructive possession, which refers to the fact that you have management or control over the weapon – even if it is not on your person.
With constructive possession, the lines can be blurred. If police uncover a weapon in the glove box of your car, there is a good argument for constructive possession; if officers find a gun in the trunk when you are driving someone else's vehicle, there are defense options.
Trust a Delaware Weapons Charges Defense Lawyer to Protect Your Rights
As you can see, it is one thing to have a defense – and yet another to raise them to the attention of the court. For more information on fighting weapons charges, please contact Attorney Michael W. Modica. You can schedule a consultation at our offices in Wilmington, DE by calling 302.600.1262 or visiting us online.
Source:
sac.delaware.gov/wp-content/uploads/sites/64/2021/11/Crime-in-DE-2020-Main-Report.pdf