I Am Being Accused of Cyberstalking in Delaware: What Happens Now?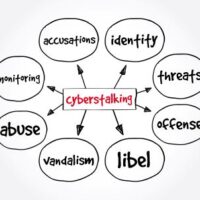 As with virtually all US states, Delaware has strict laws against cyberstalking – and these laws can lead to considerable sentences. Although it might seem unthinkable to spend time behind bars for online activities, this is a very real possibility. As past cases have shown, it is even possible to spend the rest of your life in prison after a cyberstalking conviction.
What Are the Cyberstalking Laws in Delaware? 
According to the Cyberbullying Research Center, Delaware has strict laws against cyberbullying. That being said, the State does not specifically mention the phrase "cyberstalking" in its criminal statutes. Instead, the crime falls under the general categories of Stalking or Internet Harassment:
Internet Harassment: This is a class A misdemeanor that can lead to up to one year in jail and a fine of up to $2,300. If you use any form of electronic communication to insult, taunt, distress, annoy, harass, or cause fear to the alleged victim, you may be charged with this offense.
Stalking: This is a felony in Delaware. If your electronic communications to the alleged victim causes fear, mental anguish, or threats, you may be charged with this offense. Depending on the circumstances, the maximum sentences for Stalking can range from 2-15 years in prison.
Federal Cyberstalking Laws Were Born in Delaware 
A 2015 article by Delaware Online claimed that modern cyberstalking laws originated in Delaware with the passing of the Violence Against Women Act. This bill was introduced by none other than Joe Biden in 1990, who was acting as a junior Senator from Delaware at this point in his career. This federal law then evolved over time to include a cyberstalking provision.
The Most High-Profile Cyberstalking Case in Delaware Led to Life Sentences 
It was this federal law that prosecutors used to successfully push for life sentences in the most high-profile cyberstalking case that Delaware has ever seen. In 2016, the FBI announced that two individuals involved in a multi-year online campaign had been sentenced to life behind bars. This particular case was especially serious because the prosecution argued that the online harassment and cyberstalking led directly to the death of the victim.
These online activities apparently allowed the defendants to gather information about the victim, spy on the victim, and post false allegations about her. In the end, this caused the defendants to be convicted of Interstate Stalking Resulting in Death under the aforementioned Violence Against Women Act.
Where Can I Find a Qualified, Experienced Defense Attorney in Wilmington? 
It is imperative that you take cyberstalking allegations seriously, and it may be appropriate to receive guidance from a Wilmington criminal defense attorney if you face these charges. While it is possible to face life imprisonment for cyberstalking, you can fight for your rights effectively with optimal defense strategies. Book your consultation with Michael W. Modica, Attorney at Law today to discuss potential strategies alongside an experienced defense lawyer.
Sources: 
fbi.gov/news/stories/landmark-cyberstalking-case-results-in-life-sentences-for-three-family-members
cyberbullying.org/cyberstalking-laws/delaware