New Castle, DE Man Faces Possession Charges After Drug Arrest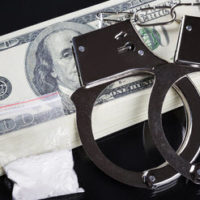 A New Castle man faces drug charges after Delaware State Police officers witnessed him tossing suspicious bags into the rear of a car, according to an August 11, 2017 report by WDEL News. Troopers encountered the accused as they were conducting a proactive enforcement walk near an apartment complex in Newark, having received reports about possible drug dealing in the area. Officers acted when they noticed the individual conducting possible drug transactions with others who approached the car and carried small items away. When police apprehended the man and retrieved the bags, they discovered heroin, crack cocaine, and powder cocaine. The charges include Possession of Controlled Substances, which carries significant penalties for a conviction.
Drug Crimes Under Delaware Law 
In general, the charges and penalties you face for drug offenses depend upon the type of the controlled substance and the amount. State law organizes the quantity of drugs into tiers: Tier 1 includes lower amounts of a controlled substance and Tier 5 includes larger quantities. As the weight of the drug increases, so do the degrees of the offense ranging from lower level misdemeanors to serious felonies. 
Possession of Controlled Substances 
Possessing, using, or consuming certain amounts of a drug will be charged as simple possession, so long as the weight is below the threshold of a Tier 3 quantity. Simple possession is a Class B Misdemeanor, but the crime is elevated to a Class A Misdemeanor in the presence of aggravating circumstances, such as where:
The offense occurred in a school zone, a park, or a place of worship;
The crime took place in a vehicle;
The offender is an adult and the crime involves a minor more than four years younger; or,
There is evidence that the offender resisted arrest, fled the scene, or attempted to flee the scene.

If you are convicted of a Class B Misdemeanor under Delaware drug laws, you face up to six months in jail and a maximum fine of $1,150. Class A Misdemeanors carry more severe punishment, so your sentence could include up to a year in jail and fine up to $2,300. Note that Possession of Controlled Substances does not include cannabis: Possession of Marijuana is a separate crime charged as a Class B or Uncategorized Misdemeanor for lower amounts.
Contact an Attorney About Drug Charges Right Away 
Drug crimes are serious charges under Delaware law, and a Possession or Possession with Intent to Deliver conviction means harsh penalties. Your sentence could include jail time, probation, and fines; plus, you will have a permanent mark on your criminal record. It may be possible to beat or reduce the charges, but you need a skilled criminal defense attorney to represent your interests in court. An experienced lawyer can work with you on strategy and develop a strong defense in the case against you. If you are facing drug charges, please contact the Law Office of Michael W. Modica in Wilmington, DE. We can answer your questions or set a free, no-obligations consultation to discuss your options.
Resource:
wdel.com/news/man-trying-to-throw-crack-heroin-in-back-seat-as/article_08485ef4-7eae-11e7-8317-7ff06624580a.html