Tips If You Were Arrested For Theft In Delaware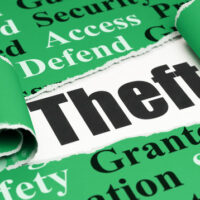 Being arrested for theft can be overwhelming and confusing, and you are probably aware that you are facing serious criminal charges. The Delaware criminal code defines theft as taking, exercising control over, or otherwise misappropriating property with the intent to permanently deprive its rightful owner of use. At the low end, theft is a Class A Misdemeanor when property is valued at less than $1,500; when the value of stolen property exceeds $100,000, the offense is a Class B Felony.
However, it is always important to keep in mind that an arrest is just the beginning of the criminal process. The government must still prove that guilt beyond a reasonable doubt to secure a conviction, and your Wilmington theft defense attorney will work to avoid such a result. You can support the efforts of your lawyer by following a few tips.
 DO Exercise Your Right to Remain Silent 
The Fifth Amendment is one of your most important rights in a criminal case, as it protects you from self-incrimination. Police cannot force you to answer questions or provide statements, and you should not volunteer any information. Even if you attempt to profess innocence to theft charges, you could reveal too much and harm your rights.
DO NOT Fall for Interrogation Tricks
Officers are well-aware of your Fifth Amendment rights, but that may not stop them from attempting to elicit information from you. Avoid making statements or responding in any way if police:
Tell you that a confession will lead to lenient treatment;
Engage in "good cop/bad cop" tactics; or
Inform you that staying silent will have negative consequences at trial. 
DO Keep in Mind the Shopkeeper's Privilege
When allegations of theft stem from shoplifting activities, Delaware law gives the store owner some leeway in conducting its own investigation. The shopkeeper's privilege allows a merchant or employee to detain a person suspected of retail theft if:
There is probable cause that the person stole merchandise;
The suspect is detained for a reasonable time; and
The conditions of the detention are reasonable.
This law acts as a defense for the store owner if you were to attempt to sue for false imprisonment after being held.
DO NOT Underestimate the Penalties You Face 
For a Class A Misdemeanor, you face up to 12 months of probation and a $2,300 fine. Punishment for a conviction increases according to the value of the property stolen, so:
It is a Class G Felony when theft is between $1,500 and $50,000. A judge could sentence up to 2 years in prison.
Theft of property valued at $50,000 to $100,000 is a Class D Felony punishable by a maximum of 8 years' incarceration.
Theft of $100,000 or more is a Class B Felony. If convicted, the judge could sentence you to 2 to 25 years' imprisonment.
DO Contact an Experienced Delaware Theft Defense Lawyer Right Away 
Your first priority after being arrested for theft should be retaining skilled representation, so please contact Attorney Michael W. Modica to set up a consultation. You can reach our Wilmington, DE office by calling 302.600.1262 or filling out an online form.
Resource:
delcode.delaware.gov/title11/c005/sc03/index.html#841