Weapons Possession During A Felony In Delaware: Prosecution's Burden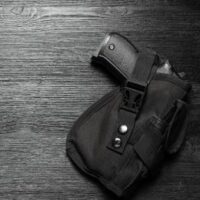 Weapons laws in the US and Delaware are generally based upon three factors: Who you are, what type of weapon, and how you were using it. For example, the "who" focuses on those individuals that are prohibited from having a gun, and there are detailed definitions on the "what" with respect to dangerous weapons and firearms. The "how" enters the picture with respect to specific conduct: Delaware criminal statutes criminalize weapons possession during commission of a felony, and the penalties can be severe if you are convicted.
However, you can only be convicted if the government meets its burden to prove guilt beyond a reasonable doubt. The prosecution must also be able to overcome any defenses you present, which could chip away at the government's case. A Wilmington weapons charges attorney will protect your rights with respect to all angles of the case, though it is helpful to know the basics of the prosecutor's burden.
What the Prosecution Must Prove: The government has certain essential elements, or sets of facts, that it must prove beyond a reasonable doubt. With this particular weapons possession charge, the important factors include:
Possession: The offense includes actual possession, in which the weapon is in your hand or on your person. It also covers constructive possession, where the point is whether you have control over the item.
Felony: The statute specifically states that it is against the law to possess a deadly weapon when committing a felony, as compared to misdemeanor.
Deadly Weapon: There are two separate statutes that apply to possessing a firearm versus another deadly weapon, such as a knife or club. They are both classified as a Class B Felony. The distinction involves punishment as described below. 
Penalties for Weapons Charges: If the prosecutor meets its burden of proof and you are convicted, the judge applies punishment for a Class B Felony. The judge must sentence you to the mandatory minimum of 2 years in prison, but the maximum is up to 25 years' incarceration. When convicted of possessing a gun during commission of a felony crime, the mandatory minimum is 5 years.
There are two important points to keep in mind with being convicted for possessing a deadly weapon or firearm while committing a crime.
The offense is separate from the underlying offense, i.e., the felony conduct that you were engaged in when apprehended. You could face additional penalties for a conviction on the other crime.
Under Delaware law, punishment does not run concurrently. Once you serve your sentence for the underlying crime, the penalty begins for the charge of being in possession of a weapon or gun during commission of a felony.
Discuss Strategies with a Delaware Weapons Charges Defense Lawyer 
Knowing the harsh penalties for a conviction, you can see that retaining experienced counsel is critical to fight charges of weapons possession during commission of a felony. To learn more about defense options, please contact Attorney Michael W. Modica. You can schedule a consultation at our Wilmington, DE office by calling 302.600.1262 or going online.