Firearms and Domestic Violence in Delaware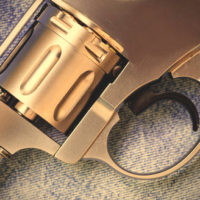 Topics related to domestic violence and firearms in Delaware have been controversial for years, but the recent shooting at a Texas church has put these issues back in the headlines. Delaware Online provided local coverage and reported on the man's history, specifically a domestic violence matter dating back to 2012. While serving with the Air Force in southern New Mexico, the individual assaulted his spouse and their child. He was subsequently court-martialed, received a bad conduct discharge, and was incarcerated for one year. Authorities have mentioned that the November 5, 2017 incident, where the man killed at least 26 people, may be related to a domestic situation as well. Because a charge of domestic violence also raises issues of weapons crimes, it is important to know Delaware law on both types of cases.
Conviction for Certain Domestic Violence Offenses 
State law prohibits a person who is convicted for any Misdemeanor Crime of Domestic Violence from buying, owning, or possessing a firearm; the prohibition also extends to ammunition. Crimes covered by the statute include those designated by law, which are committed by:
A member of the victim's family or former spouse;
A person who lived with the victim at the time of the crime or within the previous three years;
A person who shares a child with the victim; or,
An individual that was dating the victim at the time or within the previous three years
Note that the ban for a person convicted of a Misdemeanor Crime of Domestic Violence extends for five years from the date of conviction.
Protective Orders and Firearms 
Where a victim obtains a protective order related to domestic abuse, the law bans the abuser from purchasing, owning, possessing, or controlling any firearm or ammunition. The prohibition only lasts as long as the protective order is effective. 
Removal or Surrender of Firearms 
Delaware does not have a law that allows officials to take firearms at the scene of a domestic situation. However, a court is authorized to issue a protective order that instructs an abuser to surrender all firearms, either to a law enforcement officer or a licensed firearms dealer.
Under legislation passed in 2015, a protective order that directs an abuser to surrender firearms must also prohibit that person from buying, controlling, possessing, or receiving any additional guns or ammunition. The mandate remains in place for the duration of the temporary protective order.
Consult with an Experienced Criminal Defense Attorney About Your Rights 
You can see that Delaware law is tough on domestic violence. Whether due to a misdemeanor conviction or a protective order, there are serious implications for ownership and possession of firearms. The best way to avoid the harsh consequences is to present a strong defense to domestic abuse charges, especially where emotions lead a person to make fabricated or embellished allegations. For more information on firearms and domestic situations, please contact Attorney Michael W. Modica. We can tell you more about your rights at a free, confidential consultation at our Wilmington, DE office.
Resource:
delawareonline.com/story/news/2017/11/05/who-suspected-church-shooter-devin-kelley/834639001/