Overview of Delaware's Red Flag Gun Laws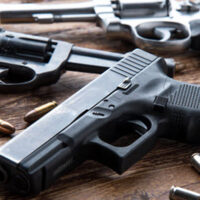 Red flag laws have made news headlines frequently in recent years because they are highly controversial in the context of Second Amendment rights. Several US states, including Delaware, have enacted these statutes to combat mass shootings and similar tragedies. Though the details vary, these statutes generally authorize a judge to enter an order requiring confiscation of firearms in the presence of violence and related circumstances. However, in doing so, red flag laws have the potentially unconstitutional effect of violating the rights of lawful gun owners. 
Because the red flag law is just in its infancy, you need a knowledgeable Delaware weapons charges attorney who stays current with the latest developments. Your lawyer can assist with your defense, but you can also read on for some background information. 
Summary of Delaware's Red Flag Gun Law: The relevant legislative measure is essentially an amendment to an existing law regarding Lethal Violence Protective Orders. Some of the key provisions include: 
The statute allows a family member or police officer to obtain an emergency order from a court where there is probable cause to indicate that the respondent presents a danger of causing injury to himself, herself, or others by being in possession or having access to a gun.

This emergency order can be issued without notice to you, so you may not even know that a legal proceeding is pending until police serve you with paperwork.

If you are the respondent and you receive such an order, you are required to hand over your weapons and could be prohibited from residing with people who legally possess guns.

The order could include authorization for police to conduct a search and seizure of firearms.




Subsequent Red Flag Proceedings:

Because the emergency order may be issued without notice to you, the law requires that you be given an opportunity to appear in court. As such, there must be a full hearing on the matter within 15 days after the date of the order. As this proceeding, you may request that the judge terminate the red flag order. You can have the matter dismissed – and recover your confiscated weapons – if you can prove that you do NOT pose a risk of harm to yourself or others. The burden is on you to present evidence in your favor, but the standard of proof is lower than in other criminal matters. You need to establish your case by clear and convincing evidence.

 

Count on a Delaware Weapons Charges Lawyer to Fight for Your Rights 

If you are a respondent in a case involving Delaware's red flag law, or were arrested on any other weapons charges, it is crucial to consult with an experienced criminal defense attorney right away. Your Second Amendment rights and future are at stake, even if there is no conviction or finding against your interests. To learn more about your defense options, please contact Wilmington weapons charges attorney Michael W. Modica. You can call our office at 302.600.1262 or go online to set up a consultation regarding your case.

https://www.michaelmodicalaw.com/firearms-and-domestic-violence-in-delaware/