Racketeering Charges for 16 People Arrested in Delaware Drug Bust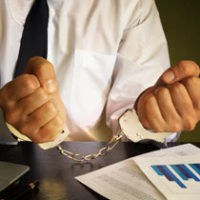 When a criminal investigation is given a name like Operation Royal Flush, you can probably expect that the resulting charges will be extremely serious. Such was the case in a recent drug bust that involved 11 government agencies, 16 arrests, and 800 grams of heroin, according to a May 24, 2019 article in Delaware State News. The ringleader was charged with a long list of drug offenses, including drug dealing, trafficking, possession, and aggravated factors. The indictment also described charges of criminal racketeering, an offense commonly associated with white collar crime.
If you have been arrested on racketeering charges or related offenses, it is important to retain an experienced Delaware white collar crimes defense attorney right away. Some important background information may also be useful.
Racketeering as a Criminal Offense: The key to racketeering is understanding what the laws punish. The focus is not on the underlying crime, but on organizing a plan with others to commit multiple offenses on an extended, continual, or long-term basis. Police and prosecutors will most definitely pursue charges for the foundational offense. However, they could significantly increase the stakes by also charging you with racketeering when the crime is part of a plan. Officials often do so when they want to "cast a wide net" to go after large-scale criminal operations.
The statute is essentially a state form of the federal statute on Racketeer Influenced and Corrupt Organizations (RICO); in fact, the Delaware law specifically incorporates RICO offenses within the statutory language. 
Important Definitions: You can also gain a better understanding of racketeering by reviewing some of the essential terms included in the statutory language: 
Racketeering: The basic definition is soliciting or encouraging others to engage in racketeering activity as defined in RICO or offenses that are classified as Felonies under Delaware law. It also encompasses the attempt or conspiracy to commit a racketeering offense.

Still, you could be arrested for racketeering charges if the underlying crime is a Misdemeanor listed in the racketeering statute. Examples include gambling, prostitution, evasion of cigarette taxes, forgery, counterfeiting, and others. 
Racketeering Activity Under RICO: This term includes acts or threats related to murder, robbery, extortion, and dealing in a controlled substance, among other offenses.
Pattern of Racketeering Activity: This term refers to two or more incidents of conduct that:

Qualify as racketeering;
Are relevant to the objectives of the plan;
Do not constitute a single criminal incident or event; and,
Take place within at least 10 years of each other.
In most cases, racketeering will be charged as a Class B Felony, punishable by up to 25 years' imprisonment and a $25,000 fine.
Call Now to Set Up a Consultation with a Skilled Delaware Criminal Defense Lawyer 
For more information on state racketeering crimes, RICO violations, and other white collar crimes, please contact Wilmington white collar crimes attorney Michael W. Modica to schedule a case evaluation. We can explain defense options and develop a legal strategy to fight the charges after reviewing your circumstances. You can reach our Wilmington, DE office by calling 302.600.1262 or visiting us online.
Resource:
delawarestatenews.net/news/16-charged-in-sussex-drug-bust/
https://www.michaelmodicalaw.com/wilmington-trust-executives-facing-white-collar-crimes-charges-in-delaware/